CoolSculpting Elite for thighs in Dallas, TX: Sculpt Your Ideal Legs
Welcome to Element Body Lab, your go-to spot for non-surgical CoolSculpting Elite treatments to tackle pesky thigh fat. Say goodbye to thigh insecurities without the need for surgery. Ready to start? Book a consultation today and boost your confidence.
 wHY opt for eLEMENT BODY lAB FOR cOOLsCULPTING LEGS IN dALLAS-fT. wORTH, tx
When it comes to CoolSculpting for thighs, it's all about customization. CoolSculpting Elite is FDA cleared to treat the inner thigh, outer thigh, banana roll, or distal thigh (above the knee) separately or together. Some clients combine CoolSculpting Elite with CoolTone for a complete leg transformation, combining both fat reduction and muscle tone.
Clients exploring more sculpted legs often consider various options and have varying goals. Some clients are looking to address fat, whereas others are more concerned about skin texture, ceullite, lax skin, or even lacking musle tone. CoolSculpting is the gold-standard choice for fat reduction and works by using cold-energy to target and kill unwanted fat in targeted areas. Learn more about how CoolSculpting works here.
We're dedicated to CoolSculpting, and our highly trained providers have thousands of hours of experience with this non-surgical, effective tech. During your consultation, we'll discuss your goals and unique anatomy to create a tailored plan, as CoolSculpting Elite isn't one-size-fits-all.
Who's the ideal candidate for coolsculpting thighs
CoolSculpting Elite and CoolTone are medical procedures, so health and safety considerations are paramount. Consult with a qualified medical provider and review safety requirements before proceeding.
Ideal candidates for CoolSculpting thighs have specific fat reduction goals for areas like the inner and outer thighs. It's essential to note that CoolSculpting isn't a weight loss solution but rather a body contouring treatment. Clients seeking treatment should prioritize spot-reducing fat in targeted areas.
CoolSculpting Elite employs cold to permanently eliminate fat, utilizing applicators of various sizes and shapes to target specific areas. Our skilled technicians apply this approach with your unique goals in mind. Learn more about the science behind CoolSculpting here.
We tailor our thigh treatments with precise applicator placement, often employing 2 to 6 applicators per session to ensure comprehensive thigh coverage. Your individual leg structure, width, and volume areas are considered when crafting this personalized plan, which necessitates both artistry and a profound understanding of the treatment. Choosing the right provider is pivotal in determining your outcome, as it can make the difference between achieving impressive, lackluster, or unnatural results.
wHAT AREAS CAN WE TREAT ON THE LEGS?
CoolSculpting Elite is FDA cleared to target the following areas on the legs and thighs:
 Inner Thighs
Outer Thighs
Distal Thighs (above the knee)
Banana Roll (beneath the buttocks)
Additionally, CoolTone is FDA cleared to treat the:
Thighs – hamstring and quad
Glutes
Clients have the flexibility to combine multiple areas and modalities to achieve even more remarkable results.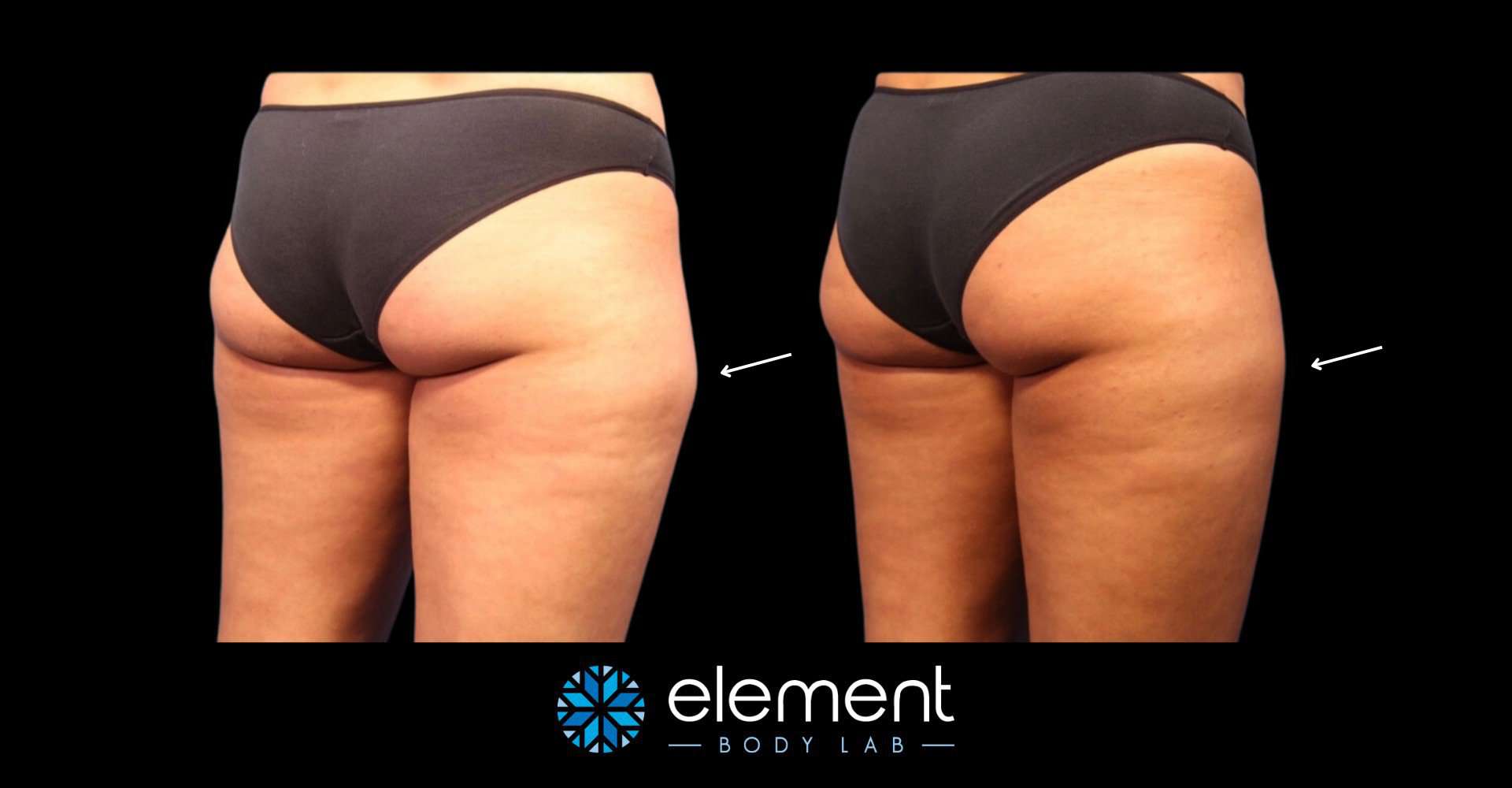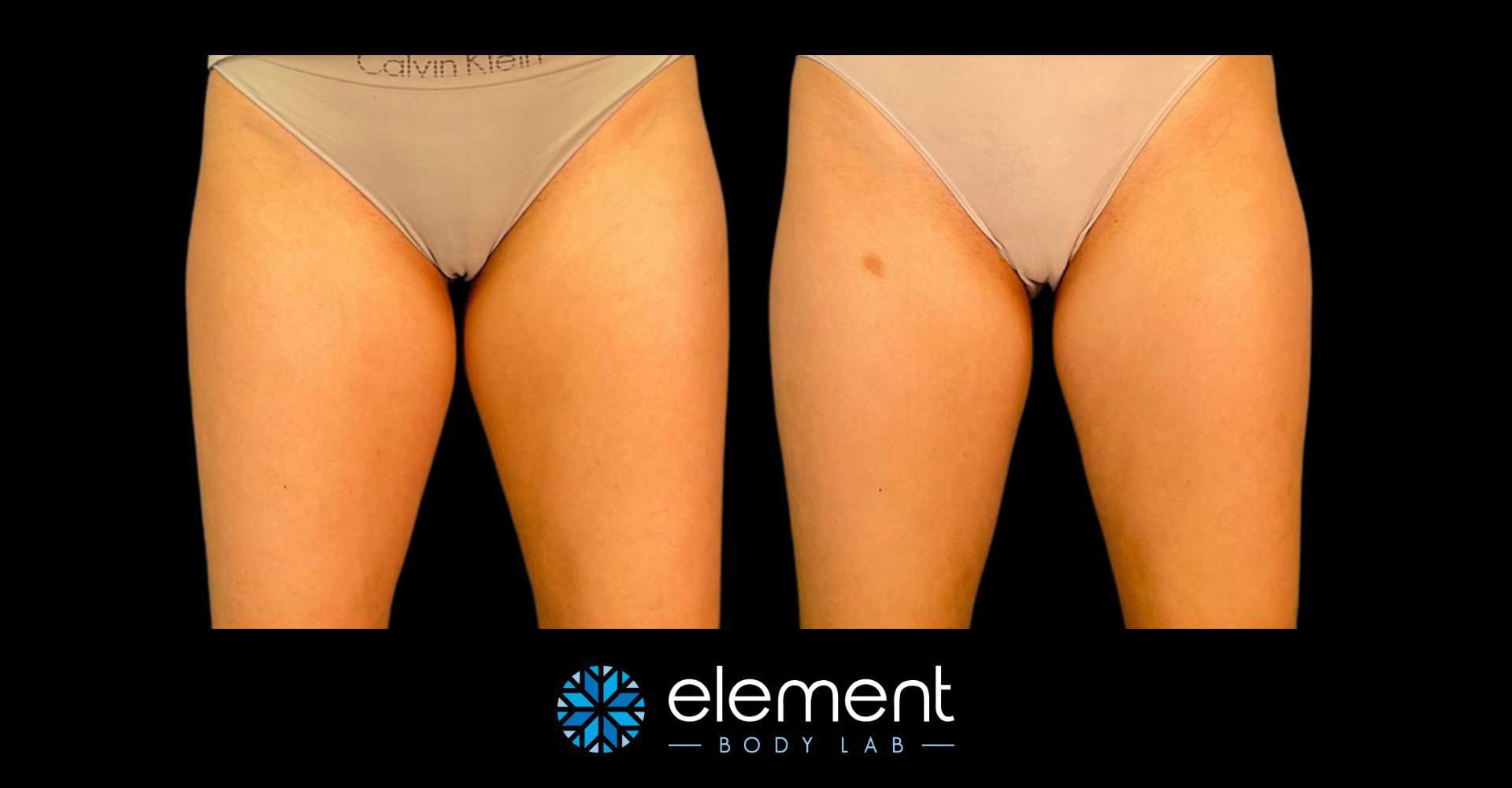 what to expect – CoolSculpting thighs
Step 1: easy consultations: Your choice – virtual or in person
At Element Body Lab, we've got your back when it comes to CoolSculpting. If you're eyeing treatments for your legs or thighs, we've made it super easy with virtual consultations. No need for in-person visits – just save time and hassle. However, if you prefer to see our office in person before committing, we're here for that too. During your virtual or in-person chat, we'll discuss your specific needs, treatment times, and costs. It's a breeze to kick things off – easily book your consultation online.
Step 2: Treatment Day – Where the magic happens
We start by prepping the treatment area with rubbing alcohol and a special pre-treatment skin wipe. Then, we lay down a protective gelpad over your skin and get our advanced applicators ready. These applicators are like the sculpting tools in an artist's hands – they're carefully placed on the areas you want to treat, ensuring we target those stubborn spots appropriately. Now, here's the cool part: our clinic has multiple machines, which means we can tackle more than one area at a time. So, you'll be in and out in no time, with more time to enjoy the results. Cool, right?
Step 3: Achieving Your CoolSculpting Thigh Goals
Typically, most clients opt for 2-3 sessions in the same area, with each session spaced 6-12 weeks apart. The final results can be expected around 3-4 months after those sessions. These results are here to stay. With a balanced diet and regular exercise, you can maintain that sculpted look for the long term. And if you're craving that extra oomph, some clients choose to add on CoolTone to supercharge and amplify their CoolSculpting Elite results. It's your journey, your way.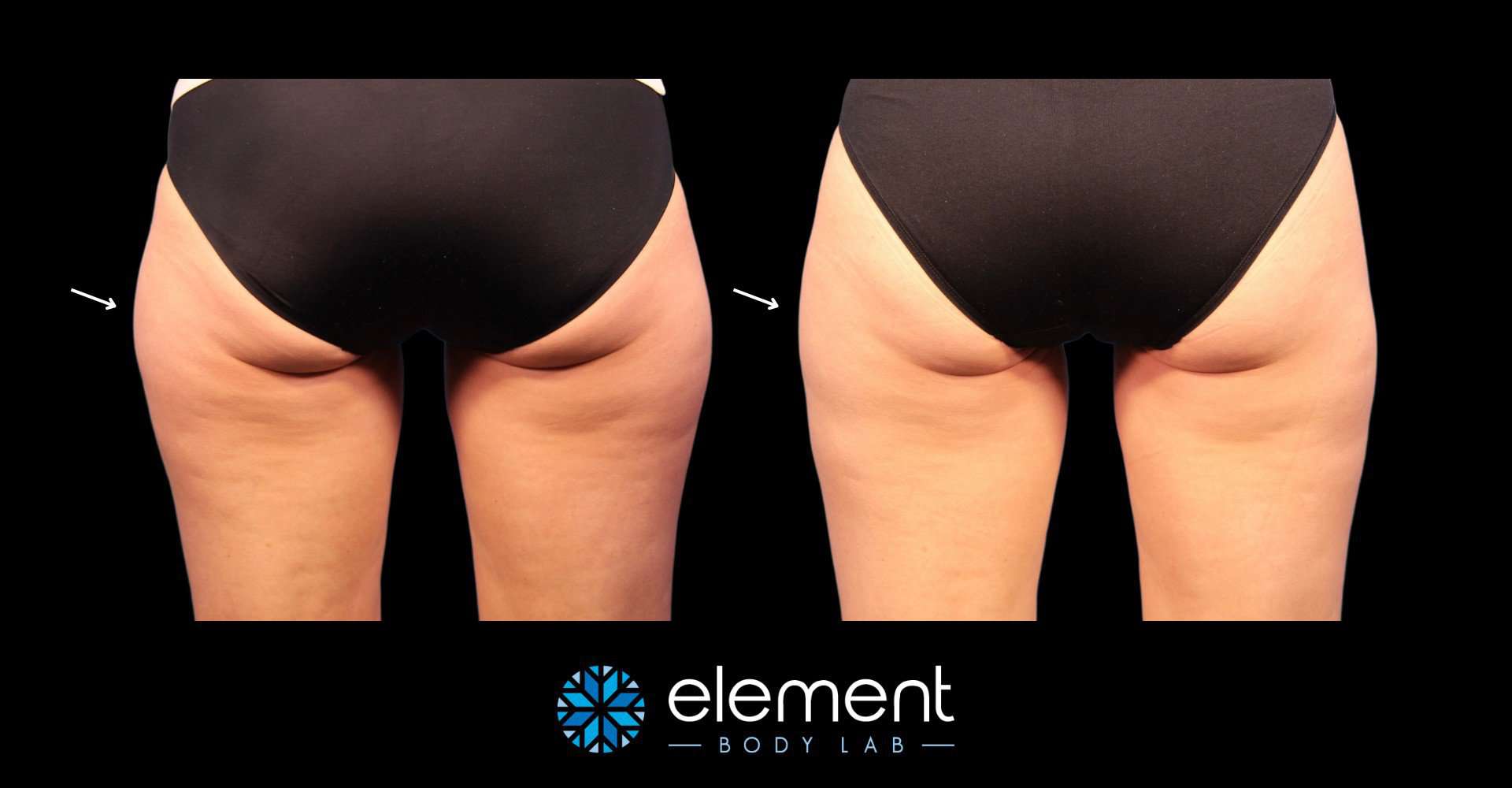 coolsculpting legs frequently asked questions
Ready to start your journey to a more sculpted you? Let's begin with a friendly chat, also known as a free consultation. Have questions? We've got answers. No pressure, just a laid-back conversation to guide you on your way.
How much does CoolSculpting for the thighs cost?
The cost can vary based on different factors like the number of sessions and your specific treatment needs. No need to worry, though – during your consultation, we'll provide you with all the nitty-gritty details about pricing based on your specific goals. On average, for smaller areas like individual thigh sections (think inner thighs), prices typically range from $1,750 to $3,000 per session.
Most clients achieve their desired results within 1 to 3 sessions. Plus, if you're considering multiple areas, like both inner and outer thighs for a more noticeable change, you can expect the price range to be around $3,000 to $5,500.
And remember, we offer discounts for multi-round treatments, so you can get even more value from your CoolSculpting journey!
Do you offer financing for CoolSculpting thigh treatments?
We offer financing and loyalty programs for clients! For financing, we offer monthly payments through our trusted partner, Cherry Financing. You can easily get preapproved even before a consultation, and the application process only takes a few minutes. Click here to apply online and see terms. 
What are the risks, side effects, and downtime for CoolSculpting legs?
CoolSculpting is a medical treatment and there are health considerations, risks, and side effects, all of which can be discussed at a consultation or prior to treatment.
Normal side effects include redness, swelling, bruising, numbness, and results in 6-12 weeks. Rare side effects can be found on the above linked document and include frostbite, hyperpigmentation, and in rare instances, paradoxical hyperplasia. 
There is no downtime after a CoolSculpting, but some clients do like to take it easy until the discomfort subsides. 
Does CoolSculpting get rid of Cellulite?
CoolSculpting is not FDA cleared to address cellulite. It's not an ideal choice and as of 2023, there are few non-surgical options with impressive outcomes. We'll keep the following page updated with details on Cellulite options as technology progresses: CoolSculpting – Cellulite Issue – What Works and What Doesn't.
Right now, take advantage of up to 50% off your CoolSculpting treatment. Minimum purchase required.
But hey, don't just take our word for it – check out what our happy clients have to say below!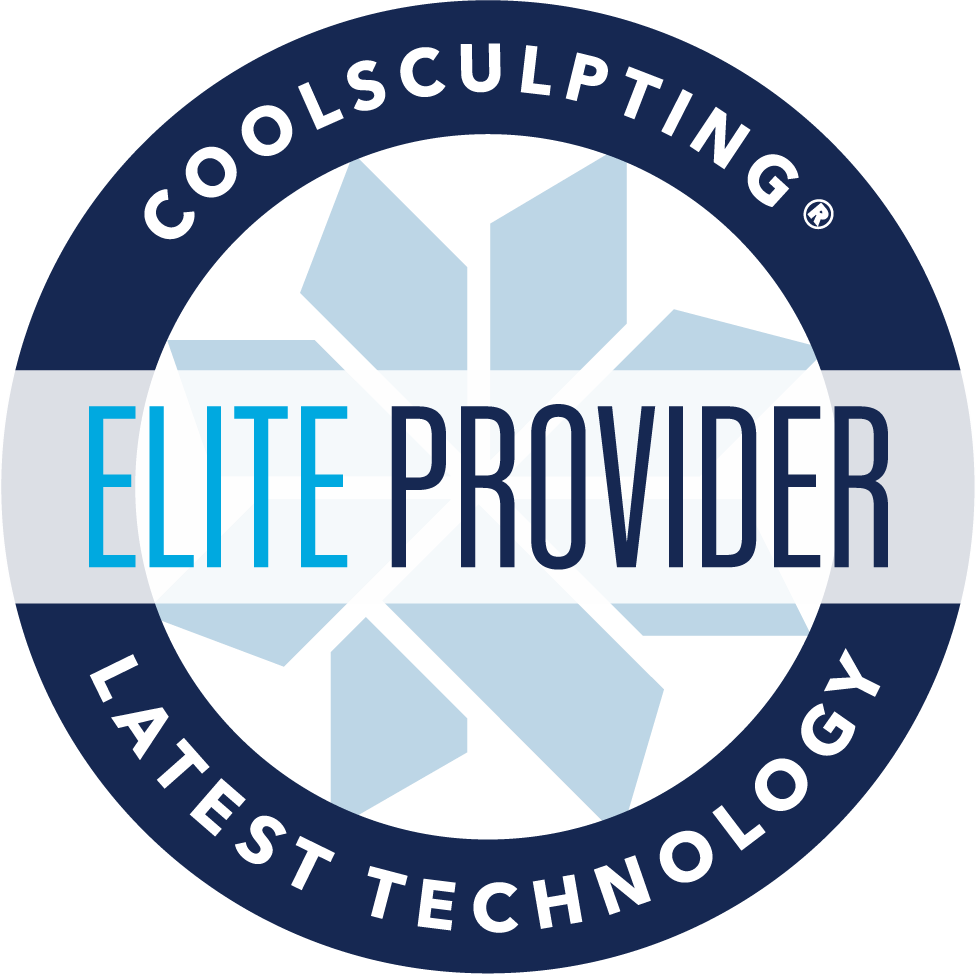 8330 Meadow Road, Suite 201
Dallas, TX 75231
Call/Text: 214-897-3006
Hours of Operation:
Monday: 10am-6pm | Tuesday: 9am-5pm | Wednesday: 9am-5pm | Thursday: 9am-3pm
Friday: 9am-5pm | Sat 9am-1pm* by appointment only | Closed Sunday
Disclaimers:
This website is designed for informational purposes only. Any general information should not be considered medical advice and is not a substitute for a professional medical opinion. Never ignore a professional medical opinion or advice in seeking treatment because of something you read online.
In the U.S., the CoolSculpting procedure is FDA-cleared for the treatment of visible fat bulges in the submental area, thigh, abdomen and flank, along with bra fat, back fat, underneath the buttocks (also known as banana roll), and upper arm. ZELTIQ, CoolSculpting, the CoolSculpting logo, and the Snowflake design are registered trademarks of ZELTIQ Aesthetics, Inc. © 2017. All rights reserved. CoolSculpting is the treatment doctors use most for non-invasive fat removal. Click HERE for patient safety information
Copyright ©2023| All Rights Reserved