CoolSculpting Elite for the Chin in Dallas-Ft. Worth
Welcome to Element Body Lab, your destination for non-surgical CoolSculpting Elite treatments that target stubborn chin fat. If you're looking for a safe and effective solution to enhance your profile without surgery, you're in the right place. Book a virtual consultation today to get started on your journey to a more confident you.
Why Choose Element Body Lab for CoolSculpting jawline in Dallas, TX
When it comes to achieving a more sculpted jawline, clients often weigh various options, including traditional techniques like chin liposuction, non-surgical choices like jawline fillers, or CoolSculpting for the chin. The decision-making process requires careful consideration due to the range of possibilities.
At our practice, we take pride in having the most highly trained providers who are well-versed in all available methods, with a specialized focus on the CoolSculpting portfolio. With thousands of hours of experience, we offer the latest non-surgical, safe, and effective technologies to meet our clients' needs.
During your consultation, you'll have the opportunity to meet with a provider to discuss your goals, assess your current anatomy, and outline your desired outcomes. We understand that CoolSculpting Elite is not a one-size-fits-all treatment. Depending on factors like the amount of fat, jawline structure, and fat-to-skin ratio, you may or may not be an ideal candidate for the procedure.
Who is the ideal candidate for coolsculpting chin
To determine if CoolSculpting Elite is the right choice for you, it's a good idea to have a chat with a qualified medical professional. You can also check out our safety considerations – just click here for more info.
When it comes to considering CoolSculpting for the chin, clients often want to bid farewell to that stubborn volume they've had for ages. It's common for clients to have a family history of this particular fat pocket, regardless of their weight.
Ideal CoolSculpting candidates aren't typically seeking a weight loss solution. While weight loss might be a goal, it's not the primary reason for choosing this treatment. CoolSculpting is all about body contouring, targeting specific areas like the chin, rather than overall weight loss. Learn more about the science behind CoolSculpting here.
We fine-tune our jawline treatments with precise applicator placement, typically using 1 to 3 applicators per session. The treatment plan is genuinely tailored to the jawline's unique structure, width, and volume. Creating this plan requires both artistry and an in-depth understanding of the treatment. Selecting the appropriate provider plays a critical role in achieving the best possible results, as it can determine the outcome – whether it's impressive, lackluster, or unnatural. 
What areas can we treat on the chin?
At Element Body Lab, we specialize in CoolSculpting treatments targeting stubborn fat in the face, chin, and neck areas. Specifically, we address concerns related to the fullness beneath the chin, known scientifically as the submental and submandibular regions.
These areas are located below the jawline and just above the hyoid bone (or voicebox), where fat accumulation can often occur. Our highly trained providers use precise applicator placement and advanced CoolSculpting Elite technology to help clients achieve their desired results in these prominent facial areas.
what to expect – CoolSculpting chin
Step 1: Personalized consultation and advice
At Element Body Lab, we prioritize both personalization and convenience when it comes to CoolSculpting. For clients seeking treatments on their neck or chin, we offer the option of a virtual consultation, saving you time and in-person visits. This consultation is essential for us to evaluate your specific area and provide tailored treatment recommendations. During the consultation, we'll also discuss the estimated treatment time and cost. To get started, you can easily book your virtual consultation online.
Step 2: Effective CoolSculpting Treatments
On treatment day, we begin by preparing the treatment area. We clean it with rubbing alcohol and apply our special pre-treatment skin wipe. Next, a protective gelpad is positioned over the skin, and our advanced applicators are carefully placed on the targeted area.
For chin treatments, each placement takes approximately 45 minutes, and clients usually require 1-3 placements to ensure full coverage of the jawline. The best part is, there's no downtime after the session, so you can effortlessly get back to your daily routine.
Normal side effects include redness, swelling, bruising and numbness, but shouldn't interfere with day-to-day activities.
Step 3: Achieving Your Desired Results
Full results develop slowly, over the course of about 3 months after each session. This gradual transformation allows your body to naturally process and eliminate the targeted fat. Once the fat is gone, it's gone for good and can be maintained with a healthy diet and regular exercise. Clients often have 1-4 sessions to the jawline, spaced 6-12 weeks apart, to achieve the full desired outcome, offering a flexible approach to achieving your ideal jawline contour.
coolsculpting Chin frequently asked questions
Your journey to clarity starts with a free consultation. It's the only way to get customized advice. We get it, you've got questions, and we're here to help. No pressure, just good info to light your way
How much does CoolSculpting for the chin cost?
Cost can vary depending on factors such as the number of sessions and individual treatment needs. During your consultation, we'll provide you with specific pricing information. On average, for small areas like the chin, costs typically range from $1,000 to $1,750 per session, and many clients achieve their desired results within 1 to 3 sessions.
Do you offer financing for CoolSculpting chin treatments?
Absolutely! We provide financing options through our trusted partner, Cherry Financing. You have the convenience of getting preapproved before your consultation, and the application process only takes a few minutes. For more details, click here to apply online and see terms. 
Is there downtime after CoolSculpting for the chin?
What results can I expect from CoolSculpting for the chin?
CoolSculpting results are individualized and can vary, so it's best to have a one-on-one consultation with our skilled provider. By assessing your specific anatomy, goals, and factors such as your fat layer thickness, fat-to-skin ratio, and skin condition, we can offer tailored recommendations and provide insights into the expected outcomes.
On average, clients typically experience around a 20-25% reduction in the treated fat layer following each session. You can anticipate visible reductions in chin fat approximately 3-4 months after the procedure, as your body naturally processes and eliminates the targeted fat cells.
Right now, take advantage of up to 50% off your CoolSculpting treatment. Minimum purchase required.
But hey, don't just take our word for it – check out what our happy clients have to say below!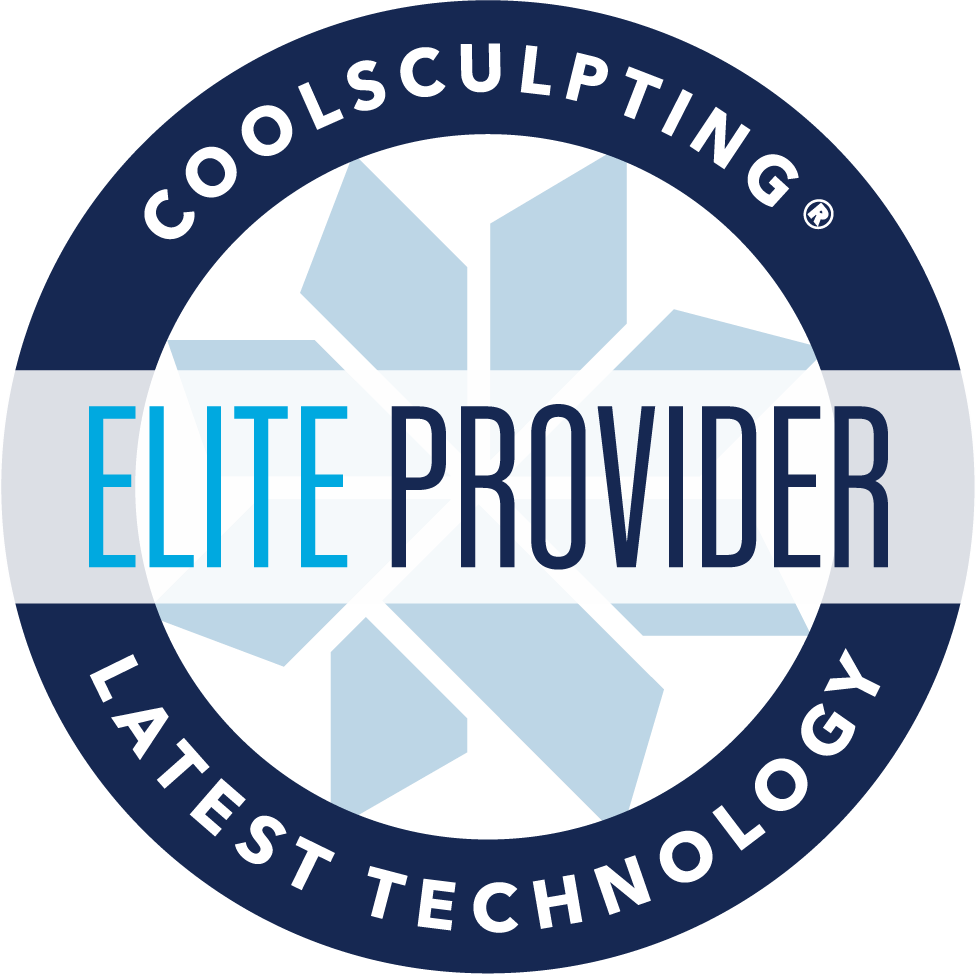 8330 Meadow Road, Suite 201
Dallas, TX 75231
Call/Text: 214-897-3006
Hours of Operation:
Monday: 10am-6pm | Tuesday: 9am-5pm | Wednesday: 9am-5pm | Thursday: 9am-3pm
Friday: 9am-5pm | Sat 9am-1pm* by appointment only | Closed Sunday
Disclaimers:
This website is designed for informational purposes only. Any general information should not be considered medical advice and is not a substitute for a professional medical opinion. Never ignore a professional medical opinion or advice in seeking treatment because of something you read online.
In the U.S., the CoolSculpting procedure is FDA-cleared for the treatment of visible fat bulges in the submental area, thigh, abdomen and flank, along with bra fat, back fat, underneath the buttocks (also known as banana roll), and upper arm. ZELTIQ, CoolSculpting, the CoolSculpting logo, and the Snowflake design are registered trademarks of ZELTIQ Aesthetics, Inc. © 2017. All rights reserved. CoolSculpting is the treatment doctors use most for non-invasive fat removal. Click HERE for patient safety information
Copyright ©2023| All Rights Reserved