Meet the Dallas CoolSculpting Experts
Welcome to Element Body Lab, your Dallas, Texas destination for CoolSculpting Elite and CoolTone. Whether it's stubborn fat or a desire for increased muscle tone, we're your go-to specialists. Our highly trained team, led by one of the National Trainers in CoolSculpting, ensures you'll get the best results possible. Schedule a consultation online and say hello to your new self!
COOLSCULPTING RESULTS –  BEFORE AND AFTER PHOTOS
Every photo you see here is of our own work. CoolSculpting is a great technology but results vary largely based on the practice you choose. We value privacy. Photo sharing is not required. We hope you love your results so much you can't wait to share them with others looking for Dallas CoolSculpting.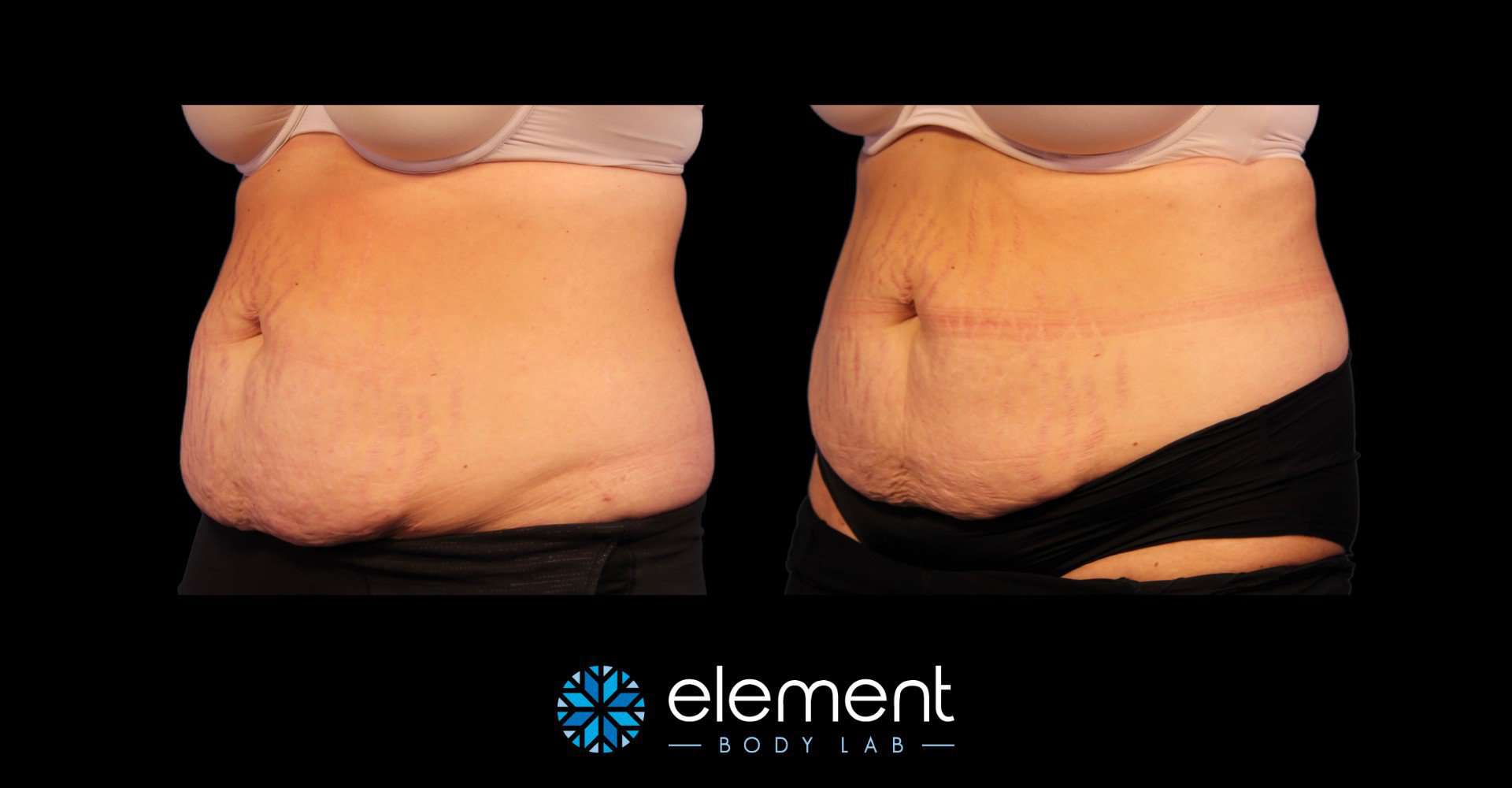 Right now, take advantage of up to 50% off your CoolSculpting treatment. Minimum purchase required.
The CoolSculpting procedure is the safest and most proven non-surgical fat reduction technology to target unwanted fat. Backed by Harvard Science, the CoolSculpting technology has stood the test of time with a high client satisfaction rating.
Freeze Fat Cells With Cold
CoolSculpting treatment works using selective cooling to kill, and naturally eliminate treated fat cells in targeted areas of the body. There's no surgery or downtime and you can be back to work and the gym same day.
Permanent Results
Results from the CoolSculpting procedure are permanent. Usually clients need a series of treatments to acheive their ideal outcome and maitain their weight and results with healthy lifestyle.
FDA-Cleared, Safe & Effective
CoolSculpting fat reduction treatment is FDA cleared in 9 different areas of the body and is the safest and most proven treatment available for non invasive fat reduction.
Customized Advice
Each client meets with a CoolSculpting Expert to customize their treatment recommendation to the targeted areas of concern and the ideal shape and outcome in mind for the client. Your goals are unique, as is your treatment.
Convenient Treatments
Treatments take as little as 35-minutes and our facility has multiple machines, allowing us to target 2-4 areas at one time, giving you the most convenient and quickest treatment day scheduling options.
No Prep Work or Downtime
There's no required prep work or downtime after a CoolSculpting treatment, so you can return to the office, life as a parent, or to the gym that afternoon. Most clients choose to take it easy after a treatment for comfort.
Why Element Body Lab for CoolSculpting in Dallas?
At Element Body Lab, our philosophy is simple. Focus on 1 thing and be the best at it. For us, that's CoolSculpting technologies.  We're not just another CoolSculpting provider; we're the specialist in freezing away stubborn fat with CoolSculpting Elite and enhancing muscle tone with CoolTone. CoolSculpting technologies are our passion, and it's all we do. What sets us apart?
Exceptional customer service, flexible scheduling tailored to your busy life, and the warm touch of a locally owned business. We understand the daily juggle of life, especially for those juggling careers, family, personal growth, and everything in between.
Say goodbye to those relentless fat pockets that diet and exercise can't touch. We spot treat those areas with CooSculpting Elite, the most up to date technology with no downtime, so you can get right back to living life to the fullest.
But it doesn't stop there. Element Body Lab is your go-to practice for the most up to date CoolSculpting technologies, ensuring you receive the latest advancements and techniques in the field, including CoolTone for increased muscle tone, strength, and definition.
Plus, we take pride in showcasing only our own before and after photos, not stock photos of someone else's work. As if that's not impressive enough, our founder is not just an expert, but also a National Trainer on CoolSculpting technologies, serving as an Allergan Medical Institute Faculty Member. You're in the capable hands of the best in the business.
It's not just about results for us, either. It's about the family-like connection we build with our clients. Element Body Lab is a cozy, intimate space where you're not just a client, you're a friend. Experience CoolSculpting Elite or CoolTone with the personal connection and care that makes Element Body Lab your ultimate desination for transformative body sculpting.
How CoolSculpting elite Works
Many of us have stubborn fat that exist despite healthy diet and exercise. The fat bulges exist regardless of how much you gain weight or loose weight. This fat is the last things to go during diligent efforts at the gym (talk about frustrating). It's called subcutaneous fat and it lies above the muscle wall. It's 3x less responsive to healthy lifestyle, diet, or exercise efforts. Fun fact: it also freezes at a higher temperature than surrounding tissue. 
During the CoolSculpting Elite procedure, fat cells are targeted using precisely controlled cooling. The fat cells freeze due to the intense cold, triggering a natural cell death. Surrounding tissues, such as skin, blood, muscle and nerves are left unhamed, but the treated fat cells die. Patients can return to normal activities immediately after the CoolSculpting Elite procedure, although most patients do take it easy for a day or two.
The dead fat cells are eliminated from the treatment area over the course of about 3 months using the lymphatic system. Patients notice about 20-25% reduction of the pockets of fat treated from one treatment, although most clients see dramatic results after multiple sessions to a single treated area. You can return to normal activities immediately and expect results to develop slowly, over the course of a few weeks to a few months.
CoolSculpting Elite is an FDA cleared, non invasive procedure and body contouring treatment intended for fat reduction. There are 9 total FDA cleared areas and treatments are customized to target noticeable bulges for each client.
A few common ares are the abdomen, love handles, bra fat, inner and outer thighs, banana roll, upper arm, and double chin.
CoolSculpting Elite treatments can target and stubborn pockets of excess fat between double chin and knees.
Good candidates are not concerned about weight gain and not looking for a weight loss solution, but instead, wanting to target fat bulges that are not responding to exercise and healthy eating.
Step 1: Attend an In Person or Virtual Consultation
Every aspect of treatments are customized. The first step is a consultation so we can look at the stubborn pockets of fat, discuss current diet and exercise efforts, explain the CoolSculpting technology and put together pricing and treatment times.
Pricing can vary depending on the treatment areas, treatment time, your unique body, and the treatment plan. Smaller areas like the bra line take less time than larger areas like the abdomen or lower abdomen. Each clients trouble spots are different and our CoolSculpting applicator selection is key to getting the most dramatic results. Our team is highly trained, having attended the highest level of training available for CoolSculpting providers – CoolSculpting University, Clinical – Masters.
Step 2: Book your CoolSculpting Treatment
Many patients book during the body contouring consultation, but others want to think about it. We will give you our best advice on options to consider for non surgical fat reduction as well as plastic surgeons we know and respect. Most patients typically return for a 2nd CoolSculpting treamtent to the same targeted fat area after about 6-8 weeks.
Want to learn more about CoolSculpting Elite before diving in? Click here.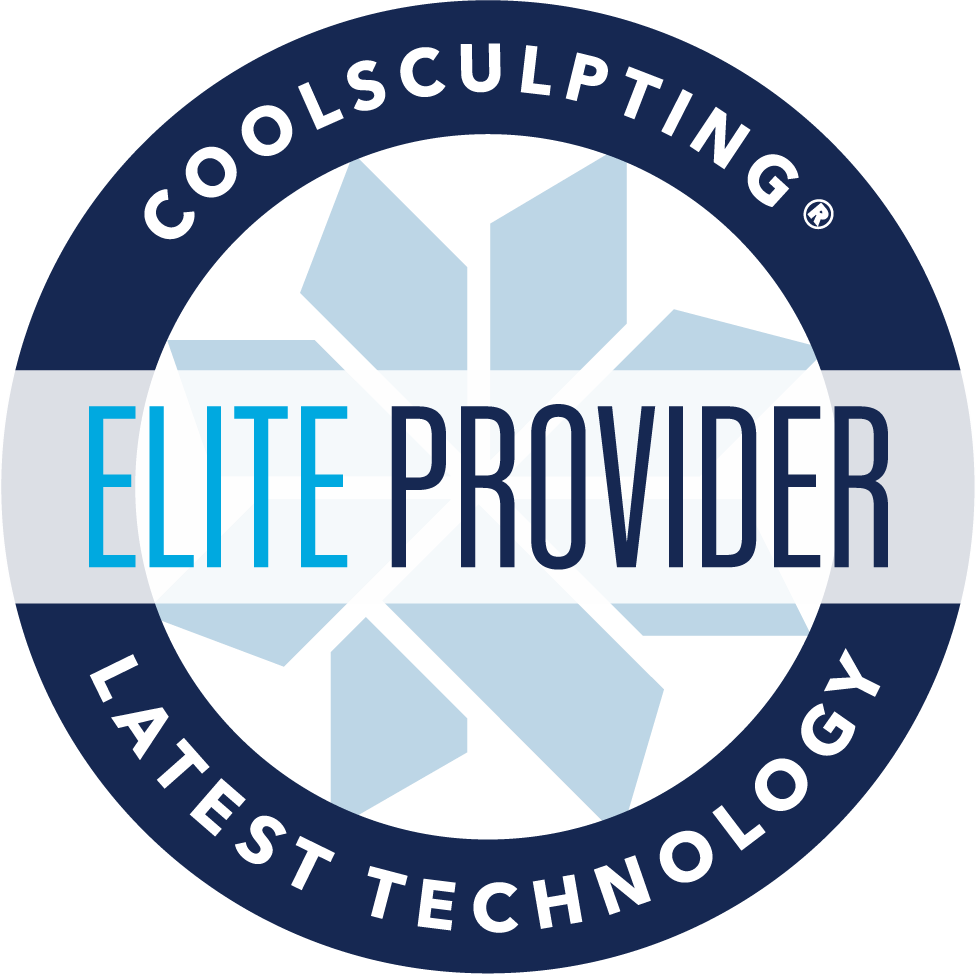 We'd love to tell you why to pick us, including our extensive training (we're all certified, have attended CoolSculpting University, Clinical-Masters program), the fact that we're led by one of the select few National Trainers on CoolSculpting, and our 5-star reputation, but instead… why don't you read what our satisfied clients have to say instead?
When considering any body contouring or body sculpting procedures, you have options. Wondering the differences between CoolSculpting Dallas and other alternatives?
CoolSculpting Vs. Liposuction
CoolSculpting targets stubborn pockets of fat using a non surgical technique called cryolipolysis. The biggest difference is there is no surgery and patients return to normal activities and work immediately. Patients wanting to avoid the risks of anesthesia and downtime of surgery love the no-hassle recovery associated with CoolSculpting.
CoolSculpting Vs. weight loss
During weight loss, all fat cells in the body get smaller but don't change in number. During CoolSculpting, specific areas are targeted, like the outer thighs our double chin, and the number of fat cells in that specific area decreases. Consider CoolSculpting the best way for spot reduction in specific areas of the body and weight loss overall volume loss.
CoolSculpting Vs. cooltone
Whereas CoolSculpting addresses unwanted fat, CoolTone helps strengthen, tone and build muscles of the abdomen, buttocks, or thighs. Some patients want both fat reduction and muscle tone to achieve their desired outcome, so their treatment plan may include both CoolSculpting and CoolTone, performed in a series. 
coolsculpting frequently asked questions
Best advice we can give is at a free consultation. Many patients feel relieved to know there's no pressure – we're just here to educate you on what options exist.
What Does CoolSculpting feel like?
During the treatment, there's a suction based applicator placed on the targeted area, which feels like a vacuum hose at a car wash. Then, the cold sensation feels like ice packs going on the skin – which can sting, tingle or burn. After 5-7 minutes, most clients go numb and relax the remaining 35-75 minutes of the treatment. When handpieces are removed, it feels like a cold foot in a hot bath. It's uncomfortable for about 5 minutes, then goes back to feeling normal.
How much does CoolSculpting cost?
Everything we do is customized so it's impossible to quote a price without seeing the area and discussing goals. On average, clients spend between $3,000-$4,000 per session. You'll get an exact price quote at your consultation. Click here to book online.
Who can NOT get CoolSculpting?
You cannot get CoolSculpting if you have any contraindications to the treatment, including paroxysmal cold hemoglobinuria, hemoglobinuria, or cold agglutenin disease. We do not treat pregnant clients with CoolSculpting or CoolTone. We do not treat breastfeeding clients with CoolSculpting. There are additional health considerations, all of which can be discussed at a consultation or prior to treatment.
How long until I see results?
Many patients return for a series of 2-3 CoolSculpting Elite session to the same targeted areas, spaced 6-8 weeks apart. Once the series is complete, full results should be expected at 3 months after the final session. You'll start to notice a difference as early as 4-6 weeks after the first treatment. Take a look at our before and after portfolio here.