CoolSculpting Abdomen In Dallas, TX: Get The Body You Want
Welcome to Element Body Lab, your top choice for CoolSculpting Elite in Dallas, Texas. We're Experts in CoolSculpting technlologies and here to help you sculpt away stubborn fat in the abdomen. Schedule a consultation online and let's get started on the body you want.
Why Choose Element Body Lab for CoolSculpting Stomach in Dallas, TX
At Element Body Lab, we specialize in non-surgical CoolSculpting technologies. The abdomen is a common concern, and our Dallas, TX practice offers advanced CoolSculpting options, including CoolSculpting Elite and CoolTone treatments. To explore permanent fat reduction, consult with our certified providers to personalize a treatment recommendation aligned with your unique goals, whether targeting the lower abdomen or aiming for a complete midsection transformation.
Our exclusive dedication to CoolSculpting sets us apart. We focus on mastering this safe, proven portfolio, which has evolved over 17 million FDA-cleared treatments. Our offerings include CoolSculpting Elite for fat reduction and CoolTone for muscle strengthening and toning. We customize treatments, sometimes combining fat reduction and muscle enhancement for a transformative outcome, while others choose the best fit for their goals and budget.
Our highly trained providers, including a national trainer on staff, deliver exceptional results. With extensive training, including programs like CoolSculpting University and the Clinical Masters Program, we bring the latest expertise to each customized CoolSculpting experience. The provider you choose significantly influences your results. "All hairdressers use scissors, not all haircuts are good" – this analogy underscores the importance of a skilled provider in your CoolSculpting journey.
Who is the ideal candidate for coolsculpting abdomen
To be considered a candidate for CoolSculpting, it's important to consult with a qualified medical professional to address any medical considerations or contraindications for treatment. You can also take a look at our safety considerations here for more information.
Most clients seeking CoolSculpting for the abdomen are active, healthy individuals at or near their ideal weight (within 5-35 lbs). The number on the scale usually isn't the primary concern; instead, it's the stubborn fat that resists diet and exercise. Ideal clients usually feel like "they've always had this," even when they were at their most fit. CoolSculpting is ideal for those last, stubborn fat deposits that resist lifestyle changes or persist no matter how big or small you are. 
 It's essential to understand that CoolSculpting isn't a weight loss treatment, and most clients don't observe significant changes on the scale. Additionally, CoolSculpting only addresses subcutaneous fat, the pinchable fat above the muscle wall. Visceral fat, the non-pinchable deep belly fat, cannot be treated with CoolSculpting. This limitation ensures the safety of the procedure, as the cold temperatures used in CoolSculpting are not cold enough to penetrate the muscle wall. Consequently, visceral fat remains unaffected by CoolSculpting. Learn more about How CoolSculpting Works here. 
We provide various CoolSculpting options, allowing for precise applicator placement that directly influences the final results you desire. Whether you're aiming for a more athletic build or a soft hourglass figure, our highly trained providers can customize the machine's placement to achieve your goals. The images below showcase the impressive results of three different female clients who underwent CoolSculpting Elite treatments on their abdomen. These outcomes are the result of distinct treatment plans, applicator placements, and individual client objectives. 
What areas can we treat on the stomach?
At Element Body Lab, we offer comprehensive CoolSculpting treatments for various areas of the stomach. Whether you're looking to address specific regions like the lower abdomen, mid abdomen, or upper abdomen, or prefer an all-encompassing approach for the full abdomen or full midsection, we've got you covered. Our expertise extends to working with clients who may have surgical scars from procedures like C-sections. As long as these scars are well-healed, we can effectively treat both above and below the scarlines. Our commitment is to ensure that you can achieve the results you desire, no matter the unique characteristics of your abdominal area.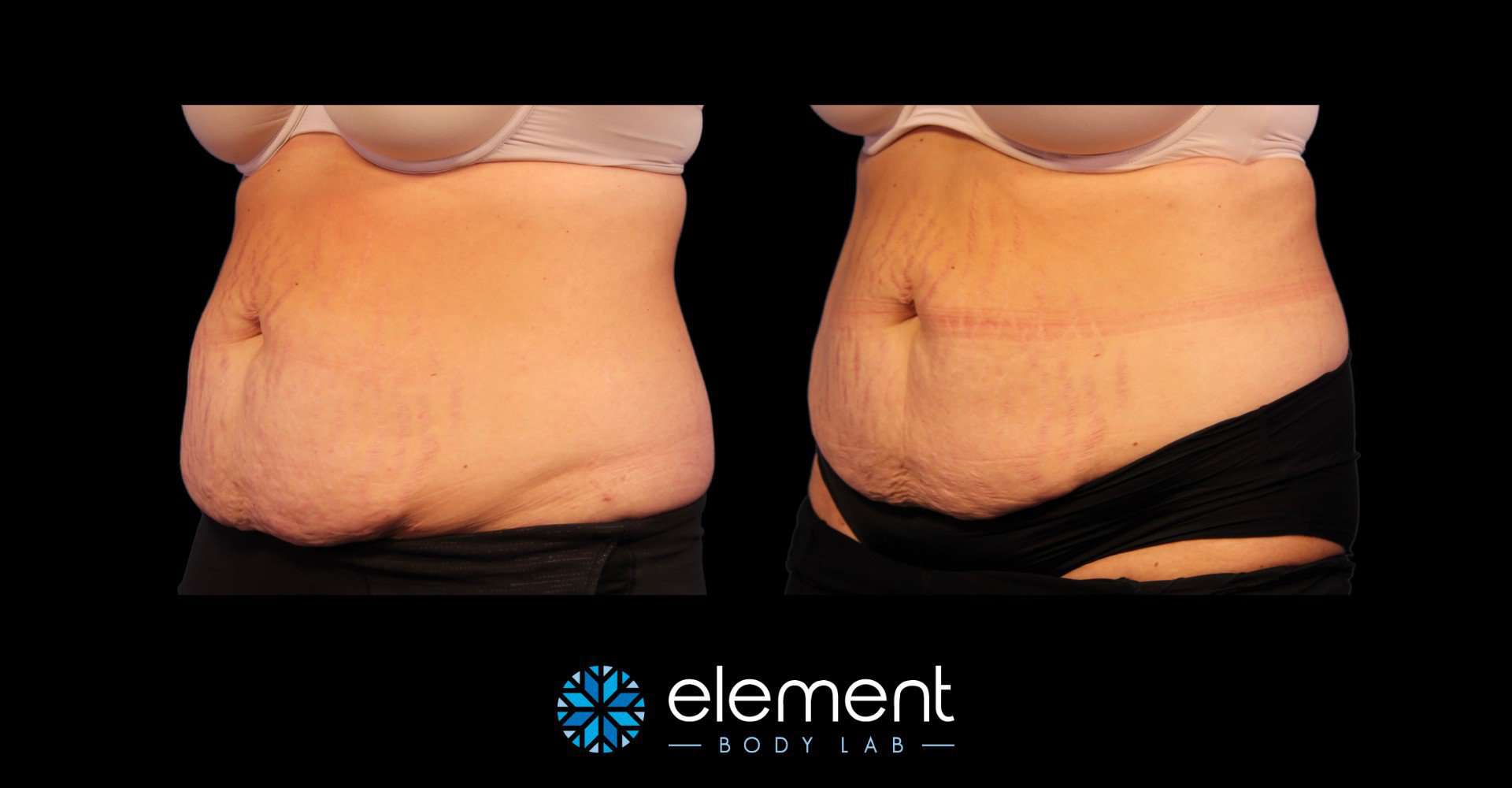 Furthermore, when clients are seeking a more masculine transformation, the recommended treatments will vary significantly. At Element Body Lab, our experienced providers are skilled in addressing the unique needs of individuals across all genders, ethnic backgrounds, and age groups to achieve results that are not only natural-looking but also long-lasting.
What to Expect – CoolSculpting Stomach
Step 1: Personalized Consultation
The CoolSculpting experience begins with personalization at every step. First and foremost, you'll embark on your journey with a comprehensive consultation. During this vital step, we take a close look at the stubborn pockets of fat that concern you, delve into your current diet and exercise routine, introduce you to the wonders of CoolSculpting technology, and craft a tailored plan that includes pricing and treatment timelines. We offer both virtual and in person consultations to make it as convenient as possible to get started with our team. Book online right here.
Step 2: Treatment Day Experience
First, we'll prepare the treatment area by cleansing it with rubbing alcohol and using our proprietary pre-treatment skin wipe. Following this, we'll place a protective gelpad over your skin and utilize our state-of-the-art applicators on one or more targeted areas. Our facility is equipped with multiple machines, allowing us to address several areas simultaneously, optimizing your time spent in our office. The active treatment phase typically lasts between 35 to 75 minutes, depending on the applicator type used. We'll repeat the process to ensure full coverage of the areas being targeted and once you're finished, there's no downtime following the session, so you can seamlessly return to your normal routine.
Step 3: Final Results In 6-12 Weeks
Typically, clients undergo a series of 2-3 sessions for each specific area, at a 6-8 week interval between them. These sessions are meticulously designed to help you achieve the original goals you envisioned. Results develop slowly, over the course of 6-12 weeks after each session. Maintaining these results is easily done through maintaining a healthy lifestyle. In some cases, clients opt for muscle tone treatments to further enhance their incredible outcomes.
coolsculpting Abdomen frequently asked questions
Your path to clarity begins with a free consultation. We understand that you might have questions, and that's why we're here. There's absolutely no pressure; our aim is to inform you about the possibilities that await you.
How much weight will I lose from CoolSculpting Stomach?
CoolSculpting is not a weight loss procedure in the traditional sense. It's designed for targeted fat reduction and body contouring rather than shedding significant pounds. The treatment is most effective for individuals who are already close to their ideal weight but have specific areas of stubborn fat they'd like to address. You might not see a substantial change on the scale, but you'll notice a visible reduction in fat in the treated areas, leading to a more sculpted appearance. CoolSculpting is about enhancing your body's contours, not causing dramatic weight loss.
How much does CoolSculpting Abdomen cost?
CoolSculpting costs vary based on factors like the treatment area and your goals. For the lower abdomen, prices range from $1,750 to $3,110 per session, with 1-3 sessions needed. Full abdomen treatments cost $3,110 to $6,600 per session, typically requiring 2-4 sessions since clients usually have more ambitious goals for that transformation.
In a consultation, we'll customize your treatment plan and provide an accurate cost estimate. Our practice offers financing and loyalty programs to make CoolSculpting affordable. Schedule a free consultation with our team to learn more and get started on your journey. Click here to book online.
Who can NOT get CoolSculpting on the Stomach?
You cannot get CoolSculpting if you have any contraindications to the treatment, including paroxysmal cold hemoglobinuria, hemoglobinuria, or cold agglutenin disease. We do not treat pregnant clients with CoolSculpting or CoolTone. We do not treat breastfeeding clients with CoolSculpting. There are additional health considerations, all of which can be discussed at a consultation or prior to treatment.
Can I get CoolSculpting if I've had a C-Section?
Absolutely. We recommend that all scar tissue is well healed (at least 6 months) prior to a CoolSculpting treatment. Many clients have their treatments customized to address the residual fat that lies above and below the C-Section Scar. Make sure you notify your provider of any concerns you have.
Should I wait until after pregnancy for my CoolSculpting?
We don't provide CoolSculpting treatments to pregnant or breastfeeding clients at Element Body Lab. If you're planning pregnancy, talk to your provider for guidance. We can suggest the best approach based on your timeline and budget. Many clients have had successful pregnancies after CoolSculpting, maintaining results without issues in the long term.
Right now, take advantage of up to 50% off your CoolSculpting treatment. Minimum purchase required.
We'd love to tell you why to pick us, including our extensive training (we're all certified, have attended CoolSculpting University, Clinical-Masters program), the fact that we're led by one of the select few National Trainers on CoolSculpting, and our 5-star reputation, but instead… why don't you read what our satisfied clients have to say instead?